Other Minds, Issue 13 published
by Thomas Morwinsky —
published

Apr 15, 2012 12:00 AM,
last modified

Jul 02, 2015 03:04 AM
Other Minds, Issue 13 has been published. Despite being long overdue, we are sure the various contributions and rubrics will support you in your Middle-earth related games, Tolkien scholarship or simply provide a good read in its own right.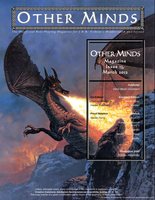 The content had to bed re-arranged on short notice and the lineup is as follows:
Editorial: some ramblings about the latest news and situation of Middle-earth gaming.
Inside Information: The latest news about Other Minds, its future and recent developments.
The Road Goes Ever On: Links related to roleplaying in Middle-earth.
The One Ring (TOR): A detailed review of the most recent incarnation of officially licensed games based on 'The Hobbit' and 'The Lord of the Rings'.
The Art of Magic for TOR: Suggestions for spell magic within the TOR framework. Based on an earlier contribution in Issue #
Iglishmêk: Using the secret gesture language(s) of the Dwarves in a roleplaying environment
Population and Urbanization in Eriador: Thoughts about and numbers for the Eriadorian demography throughout the Third Age, including maps.
Appendix Tables and Maps for the Population article plus a TOC for all Issues so far.

The team of Other Minds wish you all a good read, inspiration and fun with this Issue and we all hope to see you in the next one as well.
Download the Issue here: Other Minds Issue 13 (10.6 MB; 11,211,033 Bytes)