Other Minds Magazine Issue 2 published!
by Hawke Robinson —
published

Apr 08, 2011 02:00 AM,
last modified

Jul 02, 2015 02:58 AM
Other Minds magazine is a completely free, volunteer based regular publication dedicated to the works of J.R.R. Tolkien by Tolkien enthusiasts, scholars and those who like to role play in Tolkien's imaginary universe.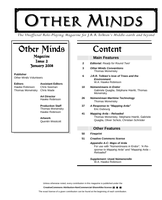 This issue is a whopping 74 pages long (not counting the adventure "Uswe Numenorello")! This is double the previous page count of the first issue. We had so many submissions come in, that we actually have almost a full issue of
content ready for OM Issue 3. Please keep the submissions coming!
Download English Other Minds Magazine Issue 2 PDF

Issue 2 has the following content:
Editorial - Ready for Round Two!
Other Minds Conventions
J.R.R. Tolkien's Love of Trees and the Environment by Hawke
Numenoreans in Endor by Gabriele Quaglia, Stéphane Hoerlé, Dr. Thomas Morwinsky
Numenorean Martime Technology by Dr. Thomas Morwinsky
A Response to "Mapping Arda" by Eric Duborg
Mapping Arda - Reloaded by Dr. Thomas Morwinsky,  Stéphane Hoerlé, Gabriele Quaglia, Oliver Schick and Christian Schröder
Uswe Numenorello - Escape From Numenor (a separate download, pending) by Hawke

The magazine is available as a free PDF download from the website.

Please swing by, download, enjoy, and please feel free to respond with
comments either by email or on the website's forums. The magazine thrives
based on it's readership interaction.

Thank you to everyone for your great responses and contributions. Please keep
them coming!
--
Other Minds Magazine
The Unofficial, International Role Playing Gaming Magazine
Dedicated to Exploring J.R.R. Tolkien's Middle-earth & Beyond.
http://www.omzine.org
--------

"I would draw some of the great tales in fullness,
and leave many only placed in the scheme, and sketched.
The cycles should be linked to a majestic whole,
and yet leave scope for OTHER MINDS and hands,
wielding paint and music and drama..."
- John Ronald Reuel Tolkien, from a letter written to Milton Waldman, ca. 1951

"He who receives an idea from me, receives instruction himself without
lessening mine;
as he who lights his taper at mine, receives light without darkening me.
That ideas should freely spread from one to another over the globe,
for the moral and mutual instruction of man, and improvement of his condition,
seems to have been peculiarly and benevolently designed by nature, when she
made them, like fire, expansible over all space, without lessening their
density at any point, and like the air in which we breathe, move, and have
our physical being, incapable of confinement or exclusive appropriation."
--Thomas Jefferson, in Writings of Thomas Jefferson,
vol. 6, H.A. Washington, Ed.,1854, pp. 180-181.