Other Minds Magazine Issue 1 published!
by Hawke Robinson —
published

Apr 08, 2006 01:00 AM,
last modified

Jul 02, 2015 02:58 AM
This is the first issue of Other Minds Magazine. It has been edited from it's original release under the GFDL (Gnu Free Documentation License), to our change to the CC (Creative Commons) license.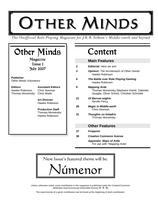 This issue has the following content:
Editorial - Here We Are!
Opinion - The Acroteriasm of Other Hands by Hawke
The Battle Over Role Playing Gaming by Hawke
Mapping Arda by Thomas Morwinsky,Stéphane Hoerlé, Gabriele Quaglia, Oliver Schick, Christian Schröder
Of Barrow-wights by Neville Percy
Magic in Middle-earth by Professor Chris Seeman
Thoughts on Imladris by Dr. Thomas Morwinsky
Maps of Arda (version 1)
Download this issue here: