Other Minds Magazine Issue 5 published!
by Hawke Robinson —
published

Apr 08, 2011 05:00 AM,
last modified

Jul 02, 2015 03:00 AM
Other Minds Magazine is "The Unofficial Role-playing Magazine for J.R.R. Tolkien's Middle-earth and Beyond". This is a magazine with strong emphasis on scholarly quality content, presented so as to be accessible and usable for both non-gaming Tolkien enthusiasts and role playing gamers alike.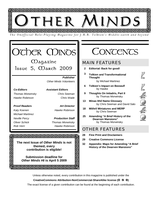 Download PDF file here:
Other Minds Magazine, Issue 5 PDF
Other Minds Magazine, Issue #5 brings you the following contributions:

Editorial: Back for good!
Tolkien and Transformational Thought - by Michael Martinez
Tolkien's Impact on Beowulf - by Hawke Robinson
Thoughts on Imladris, Part II - by Thomas Morwinsky
Minas Ithil Name Glossary - by Chriss Seeman and David Salo
Mithril Miniatures and MERP - by Chris Seeman
Amending "A Brief History of the Dwarven Mansions" - by Thomas Morwinsky