Other Minds Magazine Issue 3 published!
by Hawke Robinson —
published

Apr 08, 2011 03:00 AM,
last modified

Jul 02, 2015 02:59 AM
Other Minds Magazine is "The Unofficial Role-playing Magazine for J.R.R. Tolkien's Middle-earth and Beyond". This is a magazine with strong emphasis on scholarly quality content, presented so as to be accessible and usable for both non-gaming Tolkien enthusiasts and role playing gamers alike.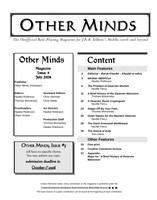 Download English PDF of Other Minds Magazine Issue 3
This issue contains the following:
Editorial: Third time is the charm
Essay: Of Barrow-wights – Part Two by Neville Percy
Essay: J.R.R. Tolkien, Words, Phrases & Passages in The Lord of the Rings - A Game Designer's Guide to Parma Eldalamberon 17 by Professor Chris Seeman
Essay: The Rings of Power – History and Abilities by Dr. Thomas Morwinsky
Essay: The Palantíri by Chris Seeman (with some Decipher Lord of the Rings Role-playing Game statistics included)
Essay: The Guild of Venturers and the Númenórean Colonies by Eric Dubourg
Supplement: Umbar-dalad ("Under Umbar") by Hawke Robinson (available via a separate download for now at http://www.numenorproject.com ) (The adventure run at MerpCon II for ICE MERP)
You can view all issues of
Other Minds Magazine
at http://www.omzine.org
Please also note that the Magazine Survey form is up and running for all three issues as an easy means of providing feedback, the direct link is: http://www.omzine.org/magazine-survey


Onward to Issue 4
Now that Issue 3 is out, please do not delay sending in your submissions for Issue 4.
Since we are running a month behind schedule, it is imperative that everyone get their submissions in ASAP.
The theme for issue 4 is "Dwarves". Anything you have related to J.R.R. Tolkien's dwarves will be considered for this upcoming issue which also corresponds to MerpCon IV's dwarven theme.
Do not delay, the deadline for draft proposals (just letting us know that you have something in mind) is
June 15th, 2008.
The deadline for actual draft submissions is absolutely no later than:
July 1st, 2008.
Issue 4 will be released initially at MerpCon IV ( http://www.merpcon.org ) in print on July 26th, 2008.
The online version will be made public on August 1st.
So don't be shy, get in your submissions to
Other Minds Magazine
today. Send email to: submissions at om zine dot org or use the online form at: http://omzine.org/submission-form
Also be sure to post on the website forums and join in the online IRC chatroom.
Meanwhile, download and enjoy all the current issues.
Many thanks to the growing number of community members and staff helping to make Other Minds Magazine possible!