Other Minds Magazine Issue 7 published!
by Thomas Morwinsky —
published

Apr 08, 2011 07:00 AM,
last modified

Jul 02, 2015 03:00 AM
Other Minds Magazine is "The Unofficial Role-playing Magazine for J.R.R. Tolkien's Middle-earth and Beyond". This is a magazine with strong emphasis on scholarly quality content, presented so as to be accessible and usable for both non-gaming Tolkien enthusiasts and role playing gamers alike.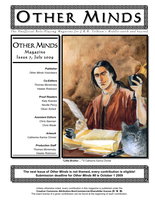 Download the PDF file here:
Other Minds Magazine Issue 7 PDF
MAIN FEATURES
Editorial: A Magical Number by Thomas Morwinsky
Inside Information by Thomas Morwinsky
The Angmarrim by Thomas Morwinsky
The Other Side by José Enrique Vacas de la Rosa
MERP Supplementary Rules by Thomas Morwinsky
The Ebbs and Flows of Númenórean Technology by António Simões

OTHER FEATURES
Appendix A - Spell Lists for "MERP Supplementary Rules"
Appendix B - Chronologies for "The Ebbs and Flows of Númenórean Technology"