Other Minds Magazine Issue 6 published!
by Thomas Morwinsky —
published

Apr 08, 2011 06:00 AM,
last modified

Jul 02, 2015 03:00 AM
Other Minds Magazine is "The Unofficial Role-playing Magazine for J.R.R. Tolkien's Middle-earth and Beyond". This is a magazine with strong emphasis on scholarly quality content, presented so as to be accessible and usable for both non-gaming Tolkien enthusiasts and role playing gamers alike.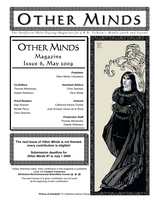 Download PDF file here:
Other Minds Magazine Issue 6 PDF
This issue contains the following:
Clad in mail - an essay by Oliver Hauss about the technology of arms armour appearing Tolkien's works.
Banks of the Northern Anduin - a great adventure by Johannes Lomborg about a Hobbit community in the Anduin valley
Born of Hope - Introducing a fan-made film project that draws heavily on the story of Aragorn's parents as described in the Lord of the Rings
The Eöldrim - A campaign idea for a very special elven folk
Book Review - Isildur - Reviewing the recent 2nd edition of the fan-fction book "Isildur"
Númenórean longevity - Detailing all aspects of the peculiar Númenórean longevity compared to other men
White Hand Rising - A "what if" scenario detailing an alternative beginning to the Fourth Age
Tharbad Map Name Changes - Glossary of recommended name changes in ICE's Tharbad interpretation